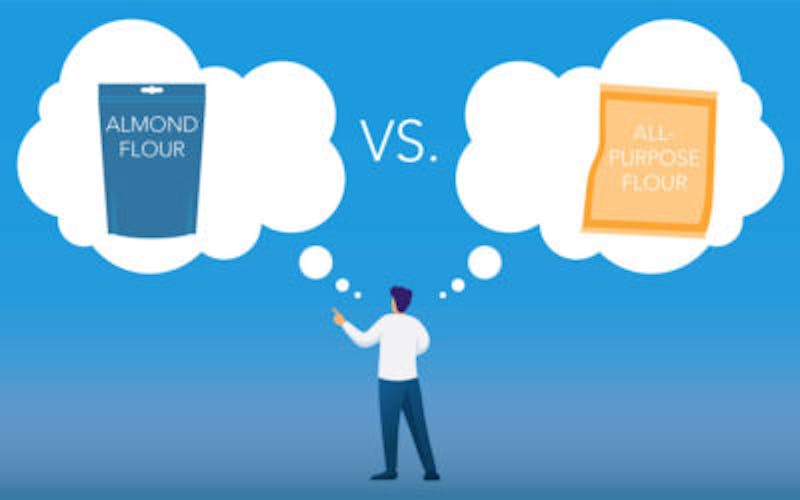 Why Should I Consider Food Alternatives?
As part of our weight loss journey, many of us have turned to dieting as a way to lose weight or keep weight off. This process can be frustrating and oftentimes unsuccessful.
Rather than thinking about things from a "diet" perspective, it can be helpful to view it from a lifestyle perspective. The first step is to view your health as a priority. What changes can you make here and now? The sooner you're able to do this, the sooner your health can improve. Here at Roller Weight Loss, we want to help you feel excited about your weight loss journey. This means rather than groaning at the thought of buying vegetables, you'll feel motivated to turn those greens into a delicious recipe.
To keep weight off or lose more, some people look into alternatives when it comes to their food choices. "Alternatives" isn't a fancy word for taking something away completely. Instead, it means replacing one thing for something else, whether it's in moderation or a consistent decision. Some alternatives are better for your health than others, but that's the beauty of the concept: you get to decide what fits best into a particular recipe or what seems like a better option for that day. Are you looking for fewer calories? Fewer carbs? Fewer grams of fat?
Let's get into an example of this: almond flour versus all-purpose flour.
Almond Flour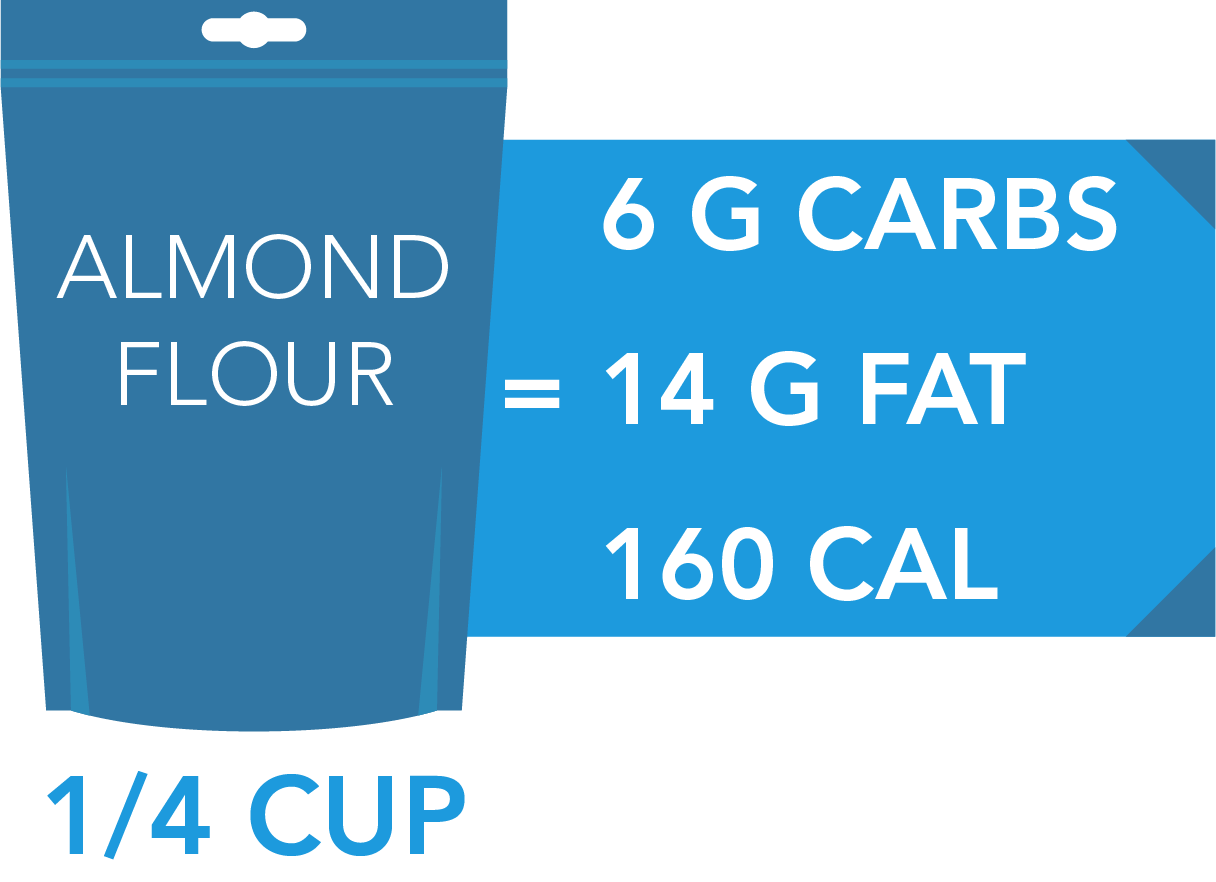 Almond flour has recently emerged into today's health trends. These "fad diets" are promoting almond flour given the low-carb count. ¼ of a cup of almond flour has roughly 160 calories with 14 grams of fat and 6 grams of carbs. Plus, it's naturally gluten-free. That doesn't sound too bad, right?
Well, it's important to keep in mind that almond flour is made from almonds, which are a great source of fiber, but they are also rather high in fat and calories. This is where carbs versus fat/calories come into play, but as mentioned before, it's your call as to which one makes the most sense to you for that recipe or that day.
There are plenty of recipes that allow for an almond flour substitute. As the chef, you get to choose which ones you'd like to try!
All-Purpose Flour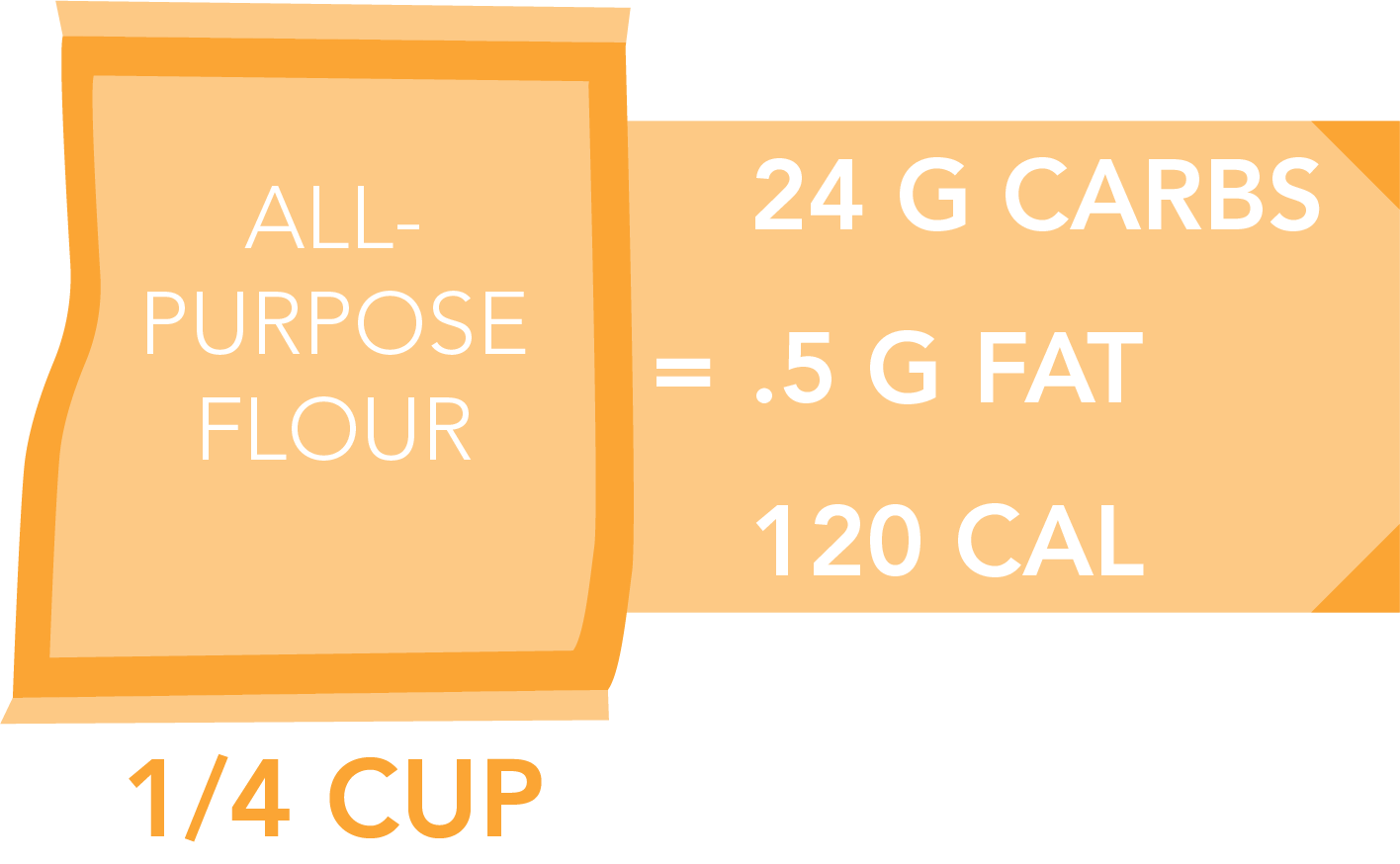 All-purpose flour has the following nutritional information: ¼ of a cup is 120 calories with 0.5 grams of fat and 24 carbs. It comes from wheat grains, which is why the carb count is higher than that of almond flour.
All-purpose flour is used in most baked goods, and it works to improve texture and taste. It's lower in fat and calorie count than almond flour, but those carbs still sneak into the mix, presenting a sort of Catch-22.
So if you're baking with flour, the decision you make on which type to use is based on whether you want more carbs or more fat.
Once again, we recommend doing whatever is best for you. It's also important to consider what you're baking. Sometimes certain types of flour are better for certain types of recipes.
What Should I Take Away From This?
Essentially, your diet is a matter of balance. So, if you want to alternate between different types of flour, that is absolutely fine. Remember to keep in mind the nutritional information each one offers. There is no single way to create a healthier lifestyle for yourself.
The main thing to take away from today is that your health truly matters. Here at Roller Weight Loss & Advanced Surgery, we want to help you make the necessary changes to live the life you want to live. We want to answer your questions, cheer you on throughout your weight loss journey, and give you tips, including suggestions for food alternatives. These tips may seem insignificant in regards to the big picture, but changes in how you perceive your diet and health can lead to major transformations, both physically and mentally.
We hope you give our recommendations a try. Let us know what you think!